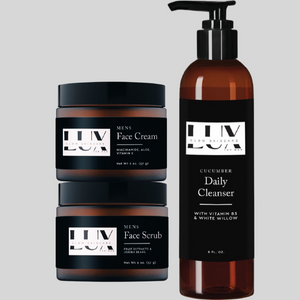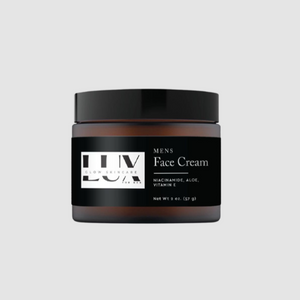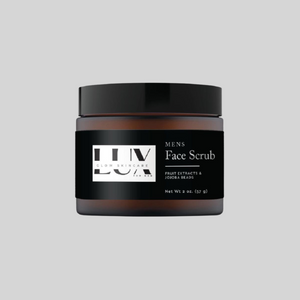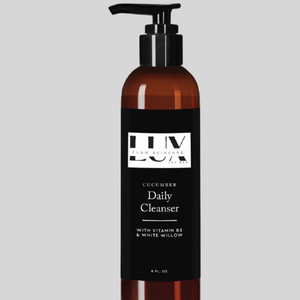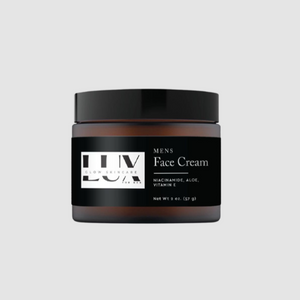 Lux Glow Skin Care FOR MEN Bundle
 LUX GLOW FOR MEN BUNDLE
Lux Glow Skin Care For Men is a premium collection of skincare products designed to meet the unique needs of men's skin. The collection offers a range of products to cleanse, exfoliate, and moisturize the skin, providing a complete skincare routine for men.
The collection includes a gentle daily face wash that effectively removes dirt, oil, and impurities, without stripping the skin of its natural oils. The face wash is formulated with natural ingredients like Aloe Vera, Cucumber, and Vitamin E that soothe and nourish the skin.
Lux Glow Skin Care For Men also offers a facial scrub, which contains finely ground beads that gently exfoliate the skin and remove dead skin cells, leaving the skin feeling smooth and refreshed. 
The collection also includes a moisturizer that hydrates and protects the skin, leaving it looking and feeling healthy. The moisturizer is infused with natural ingredients like Shea Butter, Jojoba Oil, and Aloe Vera, which soothe and moisturize the skin, while also helping to reduce the appearance of fine lines and wrinkles.
Lux Glow Skin Care For Men offers a complete collection of high-quality skincare products that are designed to meet the unique needs of men's skin, while also providing a luxurious and indulgent experience.
MENS DAILY CLEANSER
Ingredients: Purified Deionized Water, Cocamidopropyl Betaine, Decyl Glucoside, Sodium Lauroyl Lactylate, Kosher Vegetable Glycerin, Ascorbyl Palmitate (Vitamin C Ester), Avocado Oil, Sodium Chloride, Ethylhexylglycerin, Phenoyxethanol (a paraben Free preservative), Vitamin E, Carrot Seed Essential Oil
MENS EXFOLIATING SCRUB
Ingredients: Caprylic/Capric Triglyceride, Sodium Bicarbonate, Ricinus Communis (Castor) Seed Oil, Glyceryl Stearate, PEG-100 Stearate, Copernicia Cerifera (Carnauba) Wax, Polyhydroxystearic Acid, Silica, Titanium Dioxide, Pimpinella Anisum (Anise) Fruit Extract, Cocos Nucifera (Coconut) Fruit Extract, Rubus Idaeus (Raspberry) Fruit Extract, Vanilla Planifolia Fruit Extract, Cucumis Melo Cantalupensis Fruit Extract, Ananas Sativus (Pineapple) Fruit Extract, Prunus Armeniaca (Apricot) Fruit Extract, Euphorbia Cerifera (Candelilla) Wax, Tocopherol (Vitamin E), JOJOBA ESTERS, CI 77489. 
MENS FACE CREAM
Ingredients: Water, Squalane, Glycerin, Tetradecane, Butylene Glycol, Polyacrylate-13, Saccharide Isomerate, Acetyl Hexapeptide-37, Sodium Hyaluronate (Hyaluronic Acid), Chamomilla Recutita (Matricaria) Flower Extract, Aloe Barbadensis Leaf Juice, Xanthan Gum, Niacinamide (Vitamin B3), Calcium Pantothenate (Vitamin B5), Sodium Ascorbyl Phosphate (Vitamin C), Tocopheryl Acetate (Vitamin E), Pyridoxine HCl (Vitamin B6), Maltodextrin, Sodium Starch Octenylsuccinate, Silica, Polyisobutene, Phenoxyethanol, Ethylhexylglycerin, Polysorbate 20, Citric Acid, Sodium Citrate, Potassium Sorbate, Fragrance.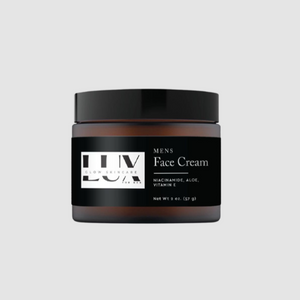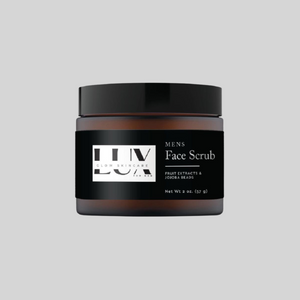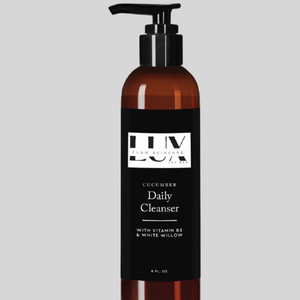 LUX GLOW FOR THE WIN!
I recently discovered Lux Glow Skincare for MEN, and I must say, it has been a game-changer for my skin! This brand deserves nothing less than a five-star review for its exceptional quality and transformative results.
From the moment I started using Lux Glow Skincare products, I noticed a remarkable difference in the appearance and feel of my skin. The luxurious formulas have truly elevated my skincare routine to new heights, making me feel like I'm indulging in a spa-like experience at home.
First and foremost, the efficacy of Lux Glow Skincare is unmatched. Each product is meticulously crafted with the finest ingredients that work synergistically to address specific skin concerns. Whether it's their cleanser, moisturizer, or scrub, every item delivers exceptional results, leaving my skin visibly smoother, more radiant, and nourished.
The attention to detail in the formulation is evident. Lux Glow Skincare strikes the perfect balance between potency and gentleness. I have sensitive skin, but these products have never caused any irritation or redness. Instead, they soothe and calm my skin, providing a pampering sensation with every use.
The packaging of Lux Glow Skincare products is not only aesthetically pleasing but also practical. The sleek and elegant design not only adds a touch of luxury to my skincare routine but also ensures the products remain fresh, easily accessible and most importantly, eco-friendly. The pump dispensers and airless containers are not only hygienic but also help me control the amount of product I use, making them last longer.
Moreover, the customer service provided by Lux Glow Skincare is exceptional. The team is responsive, knowledgeable, and genuinely passionate about skincare. They have been incredibly helpful in guiding me through my skincare journey, providing personalized recommendations and answering all my questions promptly.
In conclusion, Lux Glow Skincare has completely transformed my skin and elevated my skincare routine to new heights. The premium quality, effective formulas, luxurious experience, and impeccable customer service make it a standout brand in the industry. I wholeheartedly recommend Lux Glow Skincare to anyone seeking radiant and nourished skin. Trust me; you won't be disappointed!
Rating: ⭐️⭐️⭐️⭐️⭐️ (5/5)