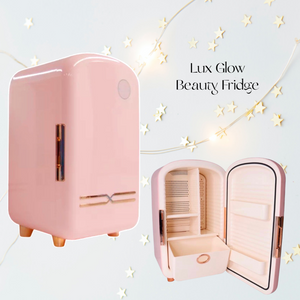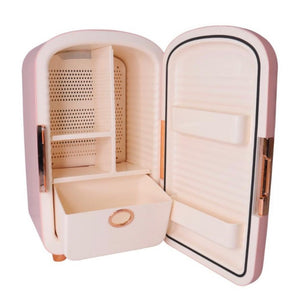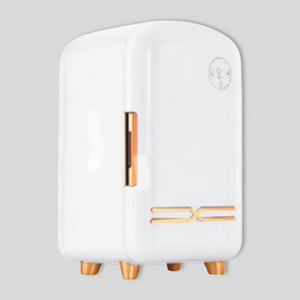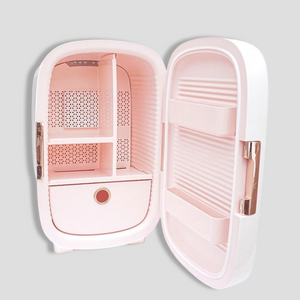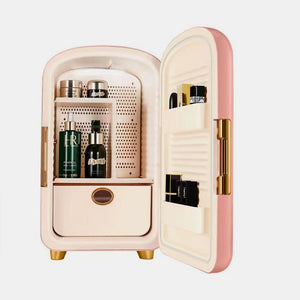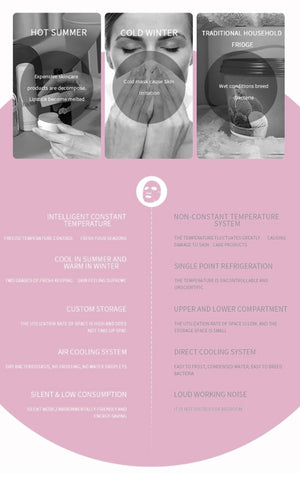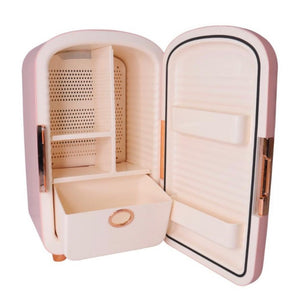 Fridge Features:
- LED Beauty Light for easy visibility even in low light conditions.
- Rose Gold Finishings + Accents for an elegant and sophisticated touch to your vanity.
- Hidden Door Handle for a sleek and stylish look.
- Adjustable Door Shelf Storage to customize your storage space.
- Three Main Shelves, Two Door Shelves + 1 Beauty Drawer Compartment for ample storage.

Benefits of Chilled Skincare:
- Extends shelf life and improves application of beauty serums, creams, masks, and natural products.
- Maximizes clay mask efficacy for best results and staying power.
- Preserves preservative-free ingredients by avoiding heat exposure.
- Soothes and reduces puffiness, redness, and irritation.
- Keeps facial rollers chilled for a soothing massage anytime.
- Two removable shelves to personalize product spacing.
- Enhances efficacy and shelf-life of natural skincare products.
- Rejuvenates, revitalizes, and renews your complexion.
- Ideal for serums, eye creams, moisturizers, oils, toners, face masks, makeup, facial rollers, and medicines.
- Protects skincare from humidity and sunlight.
- Elevates daily routines with a spa-like experience.

How to Use:
1. Place the beauty fridge on your bathroom counter, bedroom, or closet for easy access.
2. Plug in the charger to an outlet and the back of the fridge, and let it cool for at least an hour.
3. Turn on the power button on the front of the door to activate the cooling function.
4. Store your favorite creams, serums, masks, and beauty tools in the fridge for chilled and fresh skincare.
5. Enjoy the convenience and benefits of using cool temperatures for your beauty routine.

Treat yourself to the luxury of a beauty fridge and elevate your skincare experience to a whole new level! Your skin will thank you for it.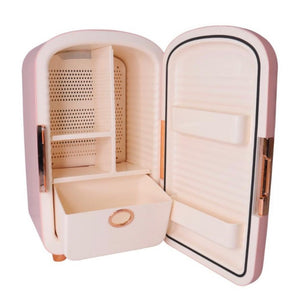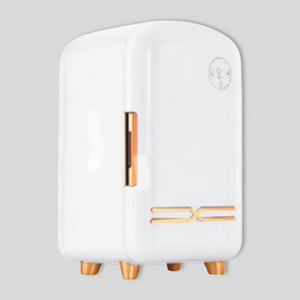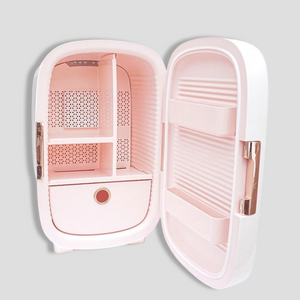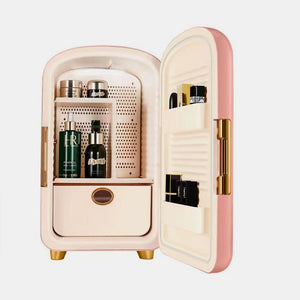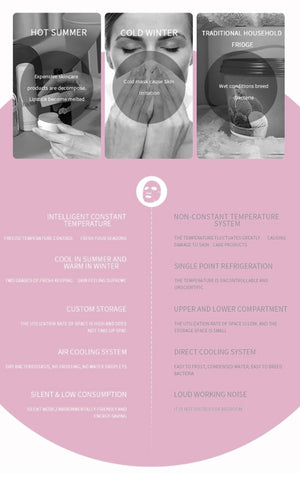 Adorable
I stocked it with all my favorite beauty serums and masks. It's so chic! I'm telling all my friends.
It was shipped 5 days, and it's good to remove the noise.
Perfect. Only downside is that it makes a little noise "blowing"