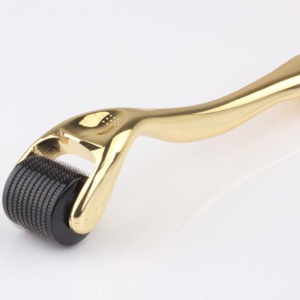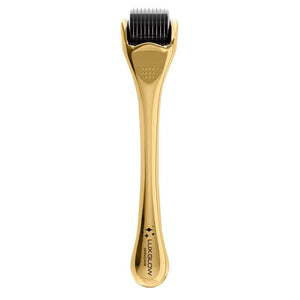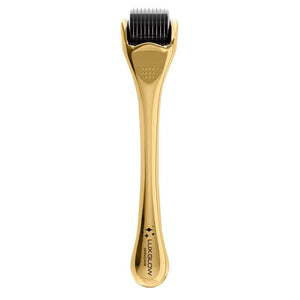 The Lux Glow Skin Care Derma Roller is a micro needling device that can be used to improve the appearance of your skin. It has 540 micro needles that are 0.2mm in length, which is the optimal size for home use. The derma roller works by creating tiny punctures in the skin, which triggers the body's natural healing response and stimulates collagen production.
Benefits:
Reduces the appearance of aging skin,

 scars,

 uneven skin tone,

 fine lines,

 and pore size

Promotes collagen production

Stimulates skin regeneration

Treats various skin issues,

 such as wrinkles,

 hyperpigmentation,

 and dark spots

Enhances the penetration of serums and creams into the skin
How to use:
Apply your favorite serum or moisturizer to your skin.

Roll the derma roller over your skin in gentle upward and outward motions.

Avoid applying too much pressure,

 as this can cause redness or irritation.

Roll for 1-2 minutes per area.

After using the derma roller,

 wait for about 4 hours before applying any other products to your skin.
Warning:
This product is for personal use only.

 

DO NOT SHARE THIS PRODUCT WITH OTHERS.

Sanitize the derma roller before and after each use with alcohol.
Use once a week and you will see visible results in less than 30 days!
Order your Lux Glow Skin Care Derma Roller today and start experiencing the benefits of micro needling!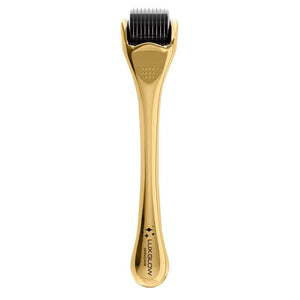 noticeable hair growth
using this around my hairline and see new follicles coming in around my temples. needles dont hurt once you get used to the feeling.
Collagen boost in a pinch!
The needles were painful at first but now that I have become used to it over the past month its really invigorating. My skin glows when I wake up in the morning.