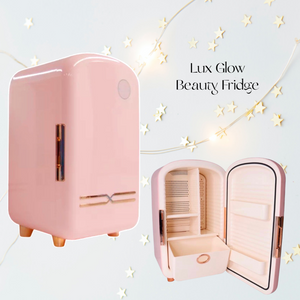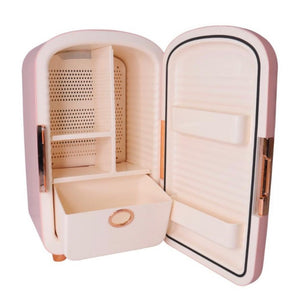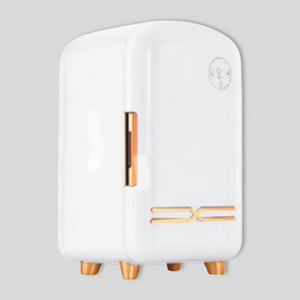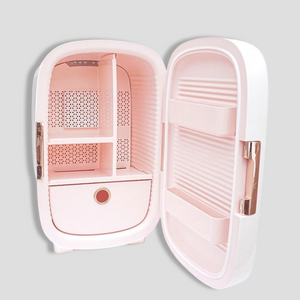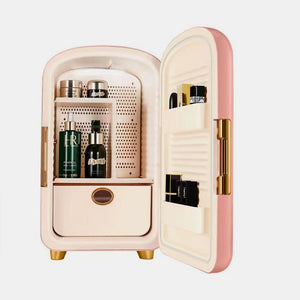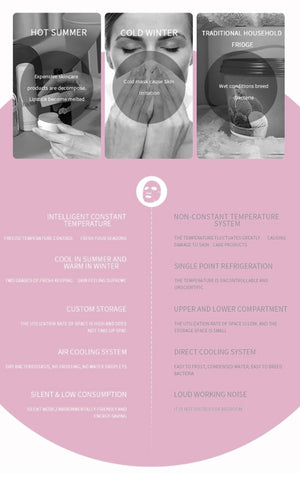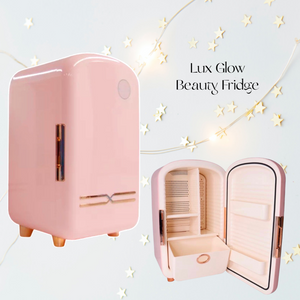 This beauty fridge boasts a range of convenient features that make it the ultimate accessory for storing your favorite skincare products. With its LED beauty light, you'll be able to easily see and access all of your products, even in low light conditions. Plus, the rose gold finish and accents add a touch of elegance and sophistication to your vanity.
The hidden door handle keeps the fridge looking sleek and stylish, while the adjustable door shelf storage allows you to customize your storage space to fit your unique needs. With three main shelves, two door shelves, and a dedicated beauty drawer compartment, you'll have plenty of space to store all of your creams, serums, masks, and beauty tools.
Whether you're looking for a way to keep your skincare organized and accessible, or simply want to add a touch of luxury to your daily routine, this beauty fridge is the perfect solution. So why not treat yourself to the ultimate skincare accessory and experience the benefits of chilled, fresh products every day?
Benefits:
Research has shown that cool temperatures can have a multitude of benefits for your beauty serums, creams, masks, and natural beauty products. Not only do they help to extend the shelf life of your products, but they can also improve their application and overall quality.
By keeping your clay masks in the beauty fridge, you can maximize their efficacy to deliver the best results and ensure maximum staying power. Additionally, heat, even at standard room temperature, can spoil preservative-free ingredients, so it's important to keep your products cool and fresh.
Chilled skincare is also incredibly soothing and can help reduce puffiness, redness, and irritation. Facial rollers can be kept in the fridge for a soothing massage anytime during the day. The beauty fridge comes with two removable shelves that you can customize to your liking, allowing you to space your products the way you want.
Not only can the beauty fridge help to increase the shelf-life and efficacy of natural skincare products, but it can also help to wake up your complexion, leaving it feeling rejuvenated, revitalized, and renewed. Perfect for storing serums, eye creams, moisturizers, oils, toners, face masks, makeup, facial rollers, and even medicines, this fridge is a versatile and valuable addition to any beauty routine.
By keeping your skincare away from humidity and sunlight, you can enhance your everyday routines for a spa-like experience. So why not add a beauty fridge to your regimen and enjoy the benefits of chilled, fresh skincare?
How to use: If you're looking for a convenient and stylish way to keep your favorite skin care products cool and fresh, a beauty fridge is the perfect solution. Not only does it add a chic touch to your vanity, but it also helps extend the shelf life of your products and enhances their effectiveness.
To get started, simply place your beauty fridge on your bathroom counter, in your bedroom or closet for easy access. Then, plug in the charger to an outlet and the back of the fridge, and allow it at least an hour to cool to your desired temperature. Once it's ready, just turn on the power button on the front of the door, and you're all set!
The beauty fridge is perfect for storing all your favorite creams, serums, masks, and beauty tools. Whether you want to keep your eye cream cool to help reduce puffiness or store your jade roller to help soothe and de-puff your skin, this compact fridge has you covered. Plus, with its sleek design and easy-to-use features, it's the perfect skin care accessory to add to your routine.
So why not treat yourself and your skin to the ultimate luxury with a beauty fridge? Your products (and your complexion) will thank you!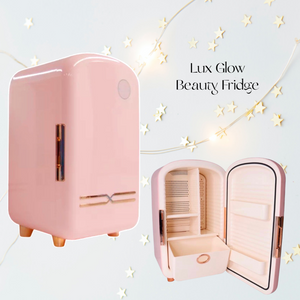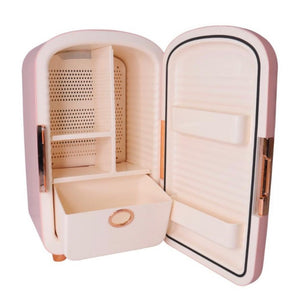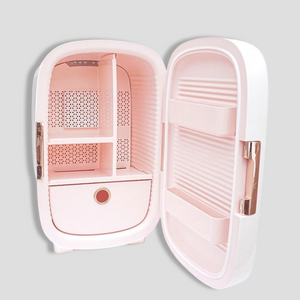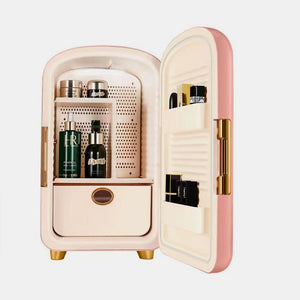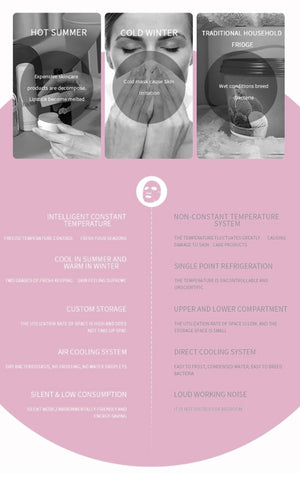 Adorable
I stocked it with all my favorite beauty serums and masks. It's so chic! I'm telling all my friends.
It was shipped 5 days, and it's good to remove the noise.
Perfect. Only downside is that it makes a little noise "blowing"