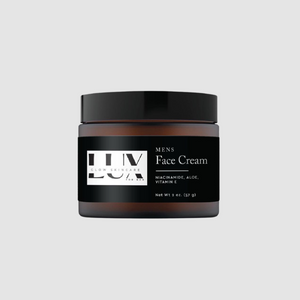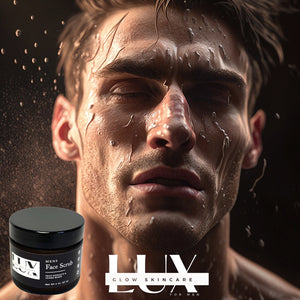 Lux Glow for Men Face Cream
MENS FACE CREAM
Key Ingredients: Niacinamide, Vitamins B, C & E, Hyaluronic Acid, Aloe
Cruelty Free, Vegan, Parabin Free, Sulfate Free, Talc Free.
Skin Types: Normal, Dry, Oily, Combination
Benefits: The Mens Face Cream is perfect for all skin types, including oily skin, dry skin, and rosacea. The cleanser helps to remove dirt and impurities, leaving the skin clean and refreshed. The cream is specially formulated to keep oily skin hydrated without leaving it greasy, while also providing a barrier between the skin and environmental factors. For those with dry skin, the cream helps to lock in moisture, keeping it hydrated and protected from the cold and wind, while also reducing the appearance of fine lines and wrinkles.
The moisturizer replenishes and nourishes the skin with essential vitamins and minerals, repairing any damage caused by pollution or sun exposure. Whether you have oily skin, dry skin, or rosacea, this skincare routine will leave your skin looking healthy and youthful.
How to use: 
1. Before applying, wash your face with the Cucumber Daily Cleanser to remove any dirt and oil. Pat your face dry with a soft, clean towel.
2. Apply a small amount of Mens Face Cream to your fingertips and gently massage it into your skin, using circular motions.
3. Allow the cream to be fully absorbed into the skin, leaving it feeling refreshed and hydrated.
4. For best results, apply the cream twice daily, morning and night.
Store in a cool and dry place away from direct heat and sunlight.
Ingredients: Water, Squalane, Glycerin, Tetradecane, Butylene Glycol, Polyacrylate-13, Saccharide Isomerate, Acetyl Hexapeptide-37, Sodium Hyaluronate (Hyaluronic Acid), Chamomilla Recutita (Matricaria) Flower Extract, Aloe Barbadensis Leaf Juice, Xanthan Gum, Niacinamide (Vitamin B3), Calcium Pantothenate (Vitamin B5), Sodium Ascorbyl Phosphate (Vitamin C), Tocopheryl Acetate (Vitamin E), Pyridoxine HCl (Vitamin B6), Maltodextrin, Sodium Starch Octenylsuccinate, Silica, Polyisobutene, Phenoxyethanol, Ethylhexylglycerin, Polysorbate 20, Citric Acid, Sodium Citrate, Potassium Sorbate, Fragrance.