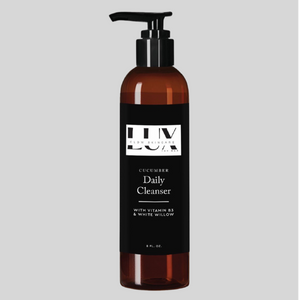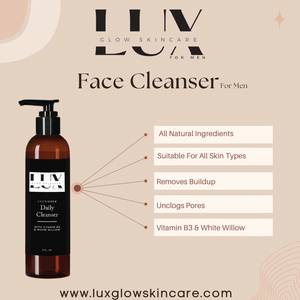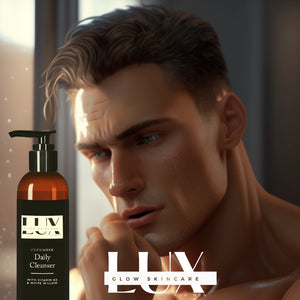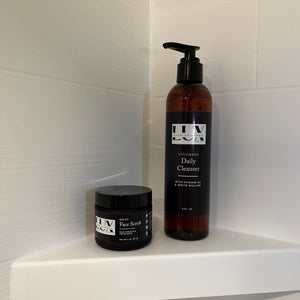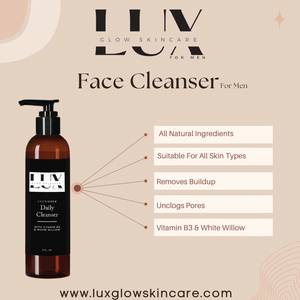 Cucumber Daily Cleanser for Men
Key Ingredients: Cucumber Daily Cleanser for Men
Cruelty Free, All Vegan, Parabin Free, Sulfate Free, Talc Free.
Skin Types: Normal, Dry, Oily, Combination
Benefits: Experience the power of a daily cleanse with our Cucumber Cleanser for Men! Our unique blend of natural ingredients helps to remove dirt, oil, and impurities from the skin without drying it out, leaving it feeling refreshed and hydrated.
Men's cleansers are designed with sensitive skin in mind, using gentle, non-irritating ingredients that won't strip the skin of its natural oils or cause inflammation. This helps to control excess oil production by gently removing dirt and impurities from the skin without stripping it of its natural oils.
The cucumber extract helps to soothe, cool, and calm irritated skin, while also providing anti-aging and brightening benefits. With regular use, you can expect to see a reduction in blemishes, improved skin tone, and a more youthful and radiant complexion.
Get ready to experience the power of our Cucumber Cleanser for Men!
How to use:
Wet the face: Wet your face with lukewarm water to prepare it for cleansing.

Apply cleanser: Squeeze a small amount of the cleanser into your palm and massage it into your face using circular motions. Avoid the eye area.

Scrub for 1-2 minutes: Scrub your face for 1-2 minutes to remove dirt, oil, and impurities.

Rinse thoroughly: Rinse your face thoroughly with lukewarm water to remove all traces of the cleanser.

Pat dry: Gently pat your face dry with a clean towel.

Follow with moisturizer: Finish by applying a moisturizer to hydrate the skin and help lock in the benefits of the cleansing.
Store in a cool and dry place away from direct heat and sunlight.
Ingredients: Purified Deionized Water, Cocamidopropyl Betaine, Decyl Glucoside, Sodium Lauroyl Lactylate, Kosher Vegetable Glycerin, Ascorbyl Palmitate (Vitamin C Ester), Avocado Oil, Sodium Chloride, Ethylhexylglycerin, Phenoyxethanol (a paraben Free preservative), Vitamin E, Carrot Seed Essential Oil.